February 29, 2012
 We wanted to say THANK YOU to all our followers! 
We honestly didn't think that we would see 100 followers, let alone 1000 followers when me and Gabby decided to start this
 crazy journey called blogging!
You all, seriously, make us so happy every time you stop by the blog!  
We blog about books because we love to read, 
and we continue to do it because of your support!  
We can't wait to have you follow us to our next milestone,
 whatever that may be!
And to show our appreciation, we are so happy 
to be having this giveaway!
This contest is International as long as TBD delivers to your country.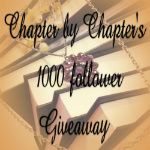 /*{literal}{/literal}*/
a Rafflecopter giveaway
<a href="http://rafl.es/enable-js">You need javascript enabled to see this giveaway</a>.