October 25, 2012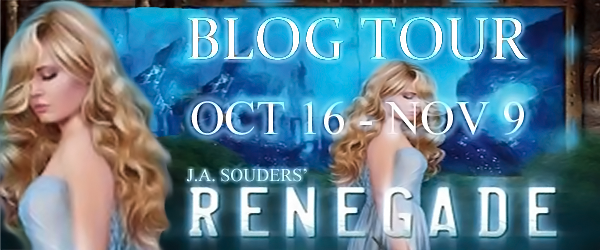 Hey guys!  Thanks for stopping by the blog for our Tour Stop for
 Renegade (The Elysium Chronicles #1) by J.A. Souders
presented by The Book Paparazzi!
Today, we are so thrilled to have the author, J.A. Souders
stop by the blog today, and share with us a few of her
favorite things!
Be sure to enter the giveaway found at the end of the post1
Since the age of three, sixteen-year-old Evelyn Winters has been trained to be Daughter of the People in the underwater utopia known as Elysium. Selected from hundreds of children for her ideal genes, all her life she's thought that everything was perfect; her world. Her people. The Law.

But when Gavin Hunter, a Surface Dweller, accidentally stumbles into their secluded little world, she's forced to come to a startling realization: everything she knows is a lie. Her memories have been altered. Her mind and body aren't under her own control. And the person she knows as Mother is a monster.

Together with Gavin she plans her escape, only to learn that her own mind is a ticking time bomb… and Mother has one last secret that will destroy them all.
Renegade (The Elysium Chronicles #1) by J.A. Souders
Publication Date:   November 13, 2012
Publisher:  Tor Teen
Top 10 Fav's with J.A. Souders
Top 3 Favorite authors (dead or alive)?
Nora Roberts has to be my favorite she was the first romance author I read and it was then that I realized that my favorite stories always dealt with with the relationships of the MCs not just the plot itself.  Suzanne Collins is my 2nd favorite because, well, HUNGER GAMES is awesome. Why wouldn't she be my favorite? And last but not least favorite author is Ann Aguirre. I just can't even begin to explain why. I love how fleshed out her characters are and how you just instantly feel pulled into the story.
Top 3 Favorite books that inspired you to write ?
The first books that really made me want to write were by Christopher Pike.  I don't remember the name of it, but it was about a teenage writer who ended up solving a murder mystery when he was the #1 suspect. Anyway, I wanted to be just like him (minus the solving my own murder mystery), then came Nora Roberts and I ADORED how realistic her romances were and how they didn't just revolve around the relationship.  And Stephanie Meyer cemented for me that I wanted to write books for teens because I loved how she was able to show the rawness of that age group.
Top 3 musicians/bands/groups?
Swift is one of my favorite artists because I love how each of her songs tells a story and each story generally has a happy ending. Avril Lavigne is a huge inspiration, I love her gritty take no nonsense style and P!nk for the same reason.
Top 3 favorite movies of all time?
I love all the Marvel movies, but I'd have to say the Iron Man both 1 and 2 take the top spots. I'm totally in love with Robert Downey, JR and think he makes the PERFECT Tony Stark with his arrogance.  Captain America would have to take number 3, because to me he's the epitome of the perfect hero. I mean technically he has "super powers" but he was a hero before all that. He's brave, courageous and has an inate sense of right and wrong and a good enough brain in his head that he can make up his own mind about the situation around him to make the best decisions he can.
Top 3 favorite animated movies?
Up is my favorite. When a movie can have me in tears with nothing more than music and pictures within ten minutes, it's pretty much assured to be my favorite. Plus it had a great plot.  Who wouldn't want to fly a house to South America?  Brave would be my next favorite because it showed a strong, spunky girl who didn't need a guy to be happy. In fact, romance wasn't even part of the story and I love Pixar for making it a mother/daughter story instead of the princess meets a prince.  And Tangled. I watched it a few months after I finished R and was astounded by the similarities.  I just love how strong Rapunzel is and how awesome Flynn is. They're both stubborn and know what they want and they're not going to stop until they get.
Top 3 favorite movie moments?
My absolute favorite movie moment is in Up when Carl is flipping through Ellie's scrapbook and flips one last page only to see she's left him a note.  The note made me tear up because it was so perfect for them. My 2nd favorite is when Rapunzel and Flynn are in the boat and they're watching the floating lanterns and she turns around and he's holding one just for her and the sloppy smile on his face.  It made my heart feel so full! That's exactly the feeling I want to regenerate when people read my book. My 3rd favorite is from The Avengers when Lokkie is monologing with the Hulk and the Hulk starts whipping him around and says, "Puny God!" I think I bust a gut laughing.
Top 3 favorite actors/actresses?
My top 3 actors/actresses are Anne Hathaway. She's just so real and doesn't seem concerned too much with what people think of her. Plus she's so pretty yet versatile in the roles she plays.  It's hard not to want to emulate her.  Sandra Bullock. Just another classy lady that exudes grace, beauty and wholesomeness.  And, last but not least, Cate Blanchett. Who doesn't love a redhead? LOL. I've just loved her versatility and how she can go from playing one of the greatest queens of all time (Queen Elizabeth I) to a Nazi (Indiana Jones and the Crystal Skull).  She's a huge inspiration for Evelyn in Renegade.
Top 3 favorite gadgets?
I ADORE my iphone. I don't ever know how I lived without.  It has everything I need in it. A GPS for when I get lost and to document my bike rides, to SIRI helping me schedule appointments and reminders so I never forget anything important again. Not to mention an actual phone for calling people all in one handy dandy spot!  I also love my ipad because I never have to worry about where to buy my books from again. If I want a book but it's only available on kindle, I have my kindle app. If it's only on nook, I have the nook app. Plus I'm able to buy more books because I have more money to go around and I don't have to worry about space.
Top 3 favorite dream destinations?
I would love to visit Ireland. There's a horseback riding tour that visits all the castles in Ireland and I've been coveting doing that for ages.  I'd also love to visit Japan and tour all the historic areas there as well. Japanese culture is just so fascinating that I can't wait to immerse myself in it.  And I REALLY, really would love to go to the underwater hotel in Dubai for obvious reasons. J
I love, love, LOVE all your answers!  Thank you so much for taking the time out and allowing us all the opportunity to get to know you a little better!
About the Author:
J.A. Souders was born in the heartland with an overactive imagination and an over abundance of curiosity that was always getting her into trouble.

Because she never grew up, she decided she'd put her imaginary friends to work and started writing. She now lives in the land of sunshine and palm trees with her husband and their two children and is an active member of the RWA, SFWA, YARWA and SCBWI.

She is represented by Natalie Lakosil of the Bradford Literary Agency and her debut novel, RENEGADE, will be released Fall 2012.
 Connect with the author:  Website / Twitter / Facebook / Goodreads
Complete the Rafflecopter below for a chance to win
a Pre-order of Renegade & some swag!
Be sure to check out the other blogs participating HERE!
Thanks for stopping by <3