February 3, 2014
Welcome to our Tour Stop for
the Persefone Series by Michelle Gagnon
presented by  Jen Halligan PR!
Be sure to enter the giveaway found at the end of the post.
Noa Torsen is on the run. Having outsmarted the sinister corporation Pike & Dolan, Noa and her friend Zeke now move stealthily across the country, protecting runaways before they become test subjects for P&D's horrific experiments. Noa knows all too well what that feels like: Whatever they did to her has left her exhausted and scared.

Back in Boston, Peter anxiously follows Noa's movements from his computer, using his hacker skills to feed her the information she needs to stay alive. But he's desperate to do something more, especially when he learns what P&D has done to his ex-girlfriend Amanda.

Then, in an explosive confrontation, Noa and her team are trapped in the one place they thought was safe. It will take everything Noa and Peter have to bring down the corporation before it gets them first. And with no one to trust and enemies hiding at every turn, they may be the only people alive who can.

This stunning second book in the critically acclaimed Don't Turn Around trilogy raises the stakes to their absolute limit and will leave readers begging for the exciting conclusion, Don't Let Go.
Don't Look Now (PERSEFoNE #2)
by Michelle Gagnon
Publication Date:  August 7, 2013
Publisher:  Harper Collins
Available for Purchase:

|
|
| iTunes
When I first read Don't Turn Around by author Michelle Gagnon I was pulled into an epic world filled with action, teen-hackers and an evil mega corporation that has reached the absolute lowest of the low. By the time the novel had reached its conclusion I was more than excited to get started on Don't Look Now which was (and I am proud to say) a thousand times better than I expected it to be. It was everything that was in Don't Turn Around with the stakes raised and twists that you never see coming. I'm very impressed with the second novel in the Persephone (obviously it's spelled with numbers and caps-lock but I'm honestly just too lazy to type it out repeatedly, so I hope you can settle on this) trilogy and can't wait to see how it reaches its conclusion.
               Taking place after the events that occurred in Don't Turn Around, main character Noa has finally managed to outsmart and escape the wicked corporation D&R. In an effort to recruit other teens and keep them safe from D&R's experimentation, Noa invests an immense amount of effort and time to make allies, all the while partaking in the hacktivist group ALLIANCE. Meanwhile, Peter is still trying to keep up with Noa's from behind the screen of his computer as a hacker. The time he spent with Noa has taken its toll out on him and he's still trying to work out his more personal relationship with his ex-girlfriend Amanda while balancing his life out. Then things go from bad to worse as new members join Noa's fight against D&R. The unthinkable occurs suddenly, unexpectedly, and Noa and Peter are left unsure who their enemies and allies are or if anybody truly can be trusted.
               The first thing I really wanted to talk about when it came to Don't Look Now was the new characters that are introduced into the novel. Usually when there's a sequel to a kick ass novel that originally only had a few sole characters its hard to get invested or interested in the new characters getting added to the plot. Half the time I personally feel like I'm just being bombarded which in turn makes it hard to care about what I'm reading. Not the case in Don't Look Now. Every character was, to me, important in their own way and all of them were written perfectly and able to compliment any others they came to interact with.
               With this also came new romance and with romance came more heartache and more feels than I could handle. Needless to say, Don't Look Now left me with a few ships (if you don't know what that word means look it up) that I could not part without. Noa is introduced to a new character who she may or may not get romantically involved with, the same goes for a newcomer character who also plays a major role in the novel. I was loving all this romance despite any pain it may have caused me internally when my heart felt like it was being stomped all over.
               Apart from all the awesome characters in the novel there's also a new amount of action and page-turning scenes that I hadn't really been expecting. Gagnon just adds so many new ideas to the plot, so many new focuses and unexpected twists that I was just—not able to deal with it. I hadn't been expecting it and finished the novel a lot faster than I had originally intended to. Personally, I found that this only made the experience all the better and I mean come on who doesn't love a novel that is filled with action?
               After everything that took place in Don't Look Now I know that there are only good things that could possibly come from the last novel in the trilogy and I cannot wait to get my hands on it. I would recommend these novels to fans of sci-fi, readers who want a fast-pace, intense read and to any readers who want a badass female protagonist. You won't be disappointed.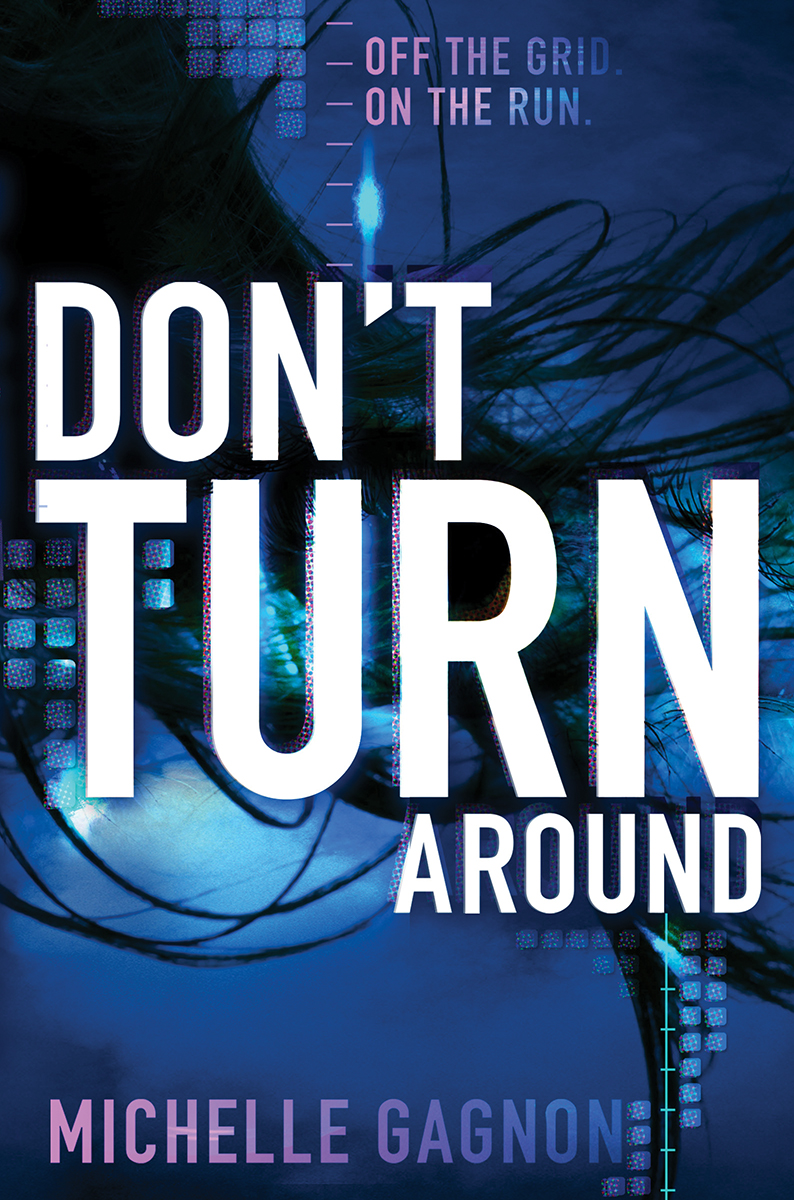 Sixteen-year-old Noa has been a victim of the system ever since her parents died. Now living off the grid and trusting no one, she uses her computer-hacking skills to stay safely anonymous and alone. But when she wakes up on a table in an empty warehouse with an IV in her arm and no memory of how she got there, Noa starts to wish she had someone on her side.

Enter Peter Gregory. A rich kid and the leader of a hacker alliance, Peter needs people with Noa's talents on his team. Especially after a shady corporation threatens his life. But what Noa and Peter don't realize is that Noa holds the key to a terrible secret, and there are those who'd stop at nothing to silence her for good. Filled with action, suspense, and romance, this first book in a new trilogy offers readers nonstop thrills.
Don't Turn Around by Michelle Gagnon
Publication Date:  August 28, 2012
Publisher: HarperCollins
You can check out our review HERE!
Michelle Gagnon is a former modern dancer, bartender, dog walker, model, personal trainer, and Russian supper club performer. Her bestselling adult thrillers THE TUNNELS, BONEYARD, THE GATEKEEPER, and KIDNAP & RANSOM have been published in North America, France, Denmark, Spain, Argentina, Norway, Sweden, Finland, and Australia. BONEYARD was a finalist for a 2009 Daphne du Maurier Award for Excellence in Mystery/Suspense.

In September 2012, her young adult debut novel DON'T TURN AROUND will be published by HarperCollins Teen. In May of 2013, her YA standalone STRANGELETS will be released by SoHo Teen. Michelle lives in San Francisco.
Connect with the Author: Website| Twitter| Facebook| Goodreads
Be sure to check out  the other blogs participating in this tour!
Monday, February 3rd – Chapter by Chapter
Wednesday, February 5th – Fantasy Book Addict
Friday, February 7th –  A Bookish Escape
Monday, February 10th – Ex Libris
Wednesday, February 12th – The Book Monsters
Friday, February 14th – YA Bookmark
Monday, February 17th – In the Best Worlds
Wednesday, February 19th – Adventures of a Book Junkie 
Friday, February 21st – The Real Bookshelves of Room 918
Complete the Rafflecopter below for a chance to win!