July 19, 2012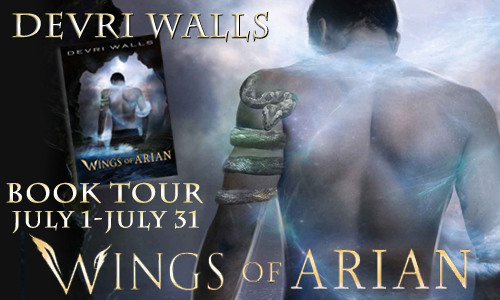 Hey!  Thanks for stopping by the blog for our Tour Stop for  
Wings of Arian by Devri Walls
hosted by
The Bookish Brunette
,
Xpresso Reads
, and
The Bookish Babe
Kiora thought she had never heard a lie until she was sixteen. But she was wrong. Her entire existence was based on nothing but. She thought that evil did not exist. Lie. That magic was not real. Lie. And that the land of Meros was all there was. One more lie.

With Aleric telling her that evil is knocking on the door and that she is the only one who can stop them she has a choice to make. Refuse, or start the wildest most painful ride of her life.
She reluctantly dips her toe into her new existence of magic and threads, dragons and shapeshifters, and the person who wants to take control of it all: the evil Dralazar.

However, this journey was never meant to be hers alone. She will be accompanied by a Protector. To her disbelief, and utter irritation they name the hotheaded, stubborn, non -magical, (albeit gorgeous) Prince Emane. They will have to trust each other with their lives, but right now Kiora would settle for a non hostile conversation.

And now it comes down to this, If you had never heard a lie, would you know when you heard one? Is knowing good from evil innate? Kiora finds herself having to decide who lives and who dies on those very questions.
Wings of Arian by Devri Walls
Publish Date: April 24, 2012
Publisher: Stonehouse Ink
I couldn't find a book trailer, so here's song for ya!
[youtube_sc url="http://www.youtube.com/watch?v=bTioBxopXQ0″ autohide="1″ hd="1″]
** This book was provided to us by the author for an honest review.
We were in no way paid for our opinion **
I am a sucker for fantasy reads, and will admit that I don't read enough of them!  But when I do, it takes everything in me to not just continue reading fantasy only.  But then the stories get all jumbled up in my head, and I end with a completely ridiculous story made up of like 3 different stories.  So, when I do get my hands on a fantasy book, I sure as heck hope it's one that will take me up, up, and away.
Devri Walls' Wings of Arian did just that.  The world that was created was one that comes straight out of a fantasy movie which reminded me of The Lord of the Rings mixed with The Never Ending Story.  Magic, dragons, warriors, fairy-type people…did I mention magic?  Magic plays a huge role in this book.
The story revolves around a sixteen year old girl named Kiora who has just been learned that she is the Solus, the one who was prophesized to help the people in winning the battle versus evil.  We watch as she quickly grows accustomed to her new magical abilities, and grow into the magical force that they have all been waiting for.  I wish that we were shown in the beginning how Aleric managed to find Kiora, and prove that she was in fact, the Solus.  In the beginning of the novel, we read how Aleric is able to sense that evil is returning and that they must now seek out the Solus who will be the one who will lead them to victory, so says the prophecy.  Then the scene cuts, and then it opens up to the Solus being found and already knowledgeable in magics.  It would have been interesting to see how Kiora deals with the knowledge.
Basically, Kiora and her new found magical friends, including Prince Emane (who by the way was so cute and sometimes very sweet) are on a mission to gain as much power and knowledge as they can, to prepare for their battle against Dralazar and his band of misfits.  Sounds simple enough… Not!  With the 411 out that Kiora is the Solus, Dralazar does everything he can to try and capture Kiora so that he can use her for… tsk tsk, you'll have to read the book to find out why!
I really enjoyed the writing style of Devri Walls.  She included a lot of humor, and there were a few emotional parts that did touch me (hello… Morcant!).  I really loved the interaction between Kiora and Prince Emane, though there were points in the book where I was annoyed with their constant bickering.  My favorite part that involved these two was during the sword training.  So playful, and very cute!  I couldn't help but smile as I was reading it, and I certainly can't wait to see what sort of adventure Kiora and Prince Emane will have in the next installment.
Fans of Fantasy will fall in love with the characters and the world created in Wings of Arian.
Connect with Devri:
Website
Available for purchase:
Barnes & Noble
Be sure to check out the rest of blog participating in the tour!
You can find them all HERE!
Be sure to enter the giveaway for two (2)
$100 Amazon Gift Cards!
Details can be found 

HERE

!