July 9, 2012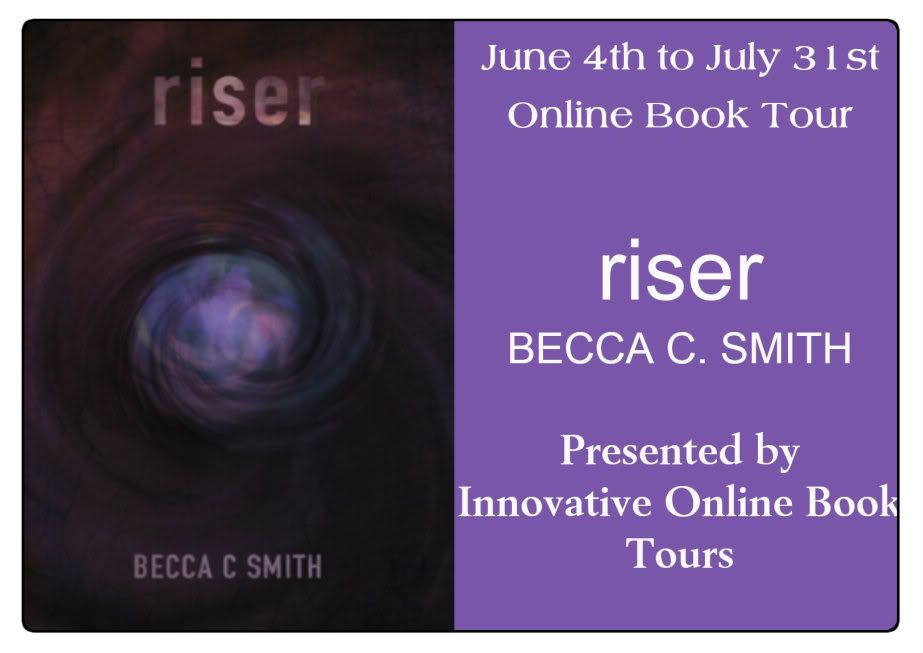 Hey! Thanks for stopping by for our Tour Stop for
RISER by Becca C. Smith
hosted by
Innovative Online Book Tours
! At our stop, we have an excerpt for your viewing pleasure. We are also excited to have Becca stop by and tell us what she would do with immortality…
Black swirling holes churning madly in the center of every corpse. This is how eighteen-year-old Chelsan Derée sees the deceased. Her ability to connect to the black spinning holes allows her to control every dead thing within a four-mile radius.

But that's the least of her problems. It's 2320 and Chelsan Derée has to survive another year of high school, which for her is pure and utter torture, mainly due to the fact that her schoolmate Jill Forester's favorite activity is making Chelsan's life a living hell. If that isn't enough, Chelsan's impossible crush on Ryan Vaughn makes her brain do somersaults on a regular basis, especially since she is positive he doesn't know she exists. And being eighteen Chelsan has to deal with the pressure of whether or not she should take a little pill called Age-pro, which cures aging, making the world eighteen forever and highly over-populated.

When Chelsan's mother, Janet, is brutally killed, along with everyone else in her trailer park, Chelsan finds out that she was the intended target. Chelsan must use her power to raise and control the dead to save herself, protect her friends and take down the man responsible for murdering her mother.
RISER by Becca C. Smith
Publish Date: June 5, 2010
Publisher: Red Frog Publishing
[youtube_sc url="http://www.youtube.com/watch?v=ouc3qIMosBo" autohide="1″ hd="1″]
What Would You Do With Immortality?


In my book Riser immortality is a reality. A tiny little pill called Age-pro stops the aging process making you eighteen forever. Of course, you can still get stabbed, poisoned, shot, hit by a bus or fall off a cliff, but as long as you steer clear of any dangerous items you can literally live forever. I have the story take place three hundred years in the future and since Age-pro was invented in 2020, the world is overpopulated.

In today's society everyone is obsessed with staying young and, in fact, Age-pro is actually based on scientific research that is actually happening today. A scientist in Cambridge claims that he'll have the "cure" for aging in less than ten years. So what if there actually was a way to stop aging and live forever? It's amazing how much different people's lives would be.

People who feared dying undoubtedly wouldn't feel any less fearful of it. They'd probably become hermits because they'd be so scared they'd die by a freak accident. The women and men today who have had so much plastic surgery they look like cats would be stuck that way forever. (I even address this issue in Riser, and I call them Felines.)

But because humans are aggressive by nature I decided to have a seedy element to the world by making Virtual Reality bars where people can live out their violent fantasies and not get hurt.

There are so many dark elements to a world of immortality, things that I didn't even think of until I started writing my book. But even though the prospect is a frightening one, I guarantee most people would still choose to be immortal despite the consequences.
You can check out an excerpt of RISER by Becca C. Smith by clicking HERE!
Be sure to check out the rest of the tour which you can find HERE!
Connect with Becca:
Website
Available for purchase:
Barnes & Noble
Thanks for stopping by!!