July 23, 2012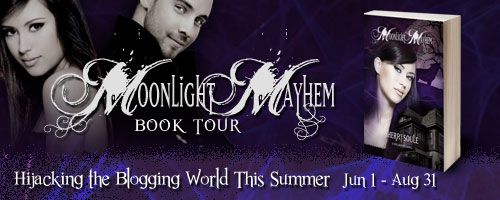 Hello all!  Thanks for stopping by the blog for our Tour Stop for
Moonlight Mayhem by Sherry Soule!
Today, Sherry stops by and gives her Dream Cast for her novel
Moonlight Mayhem
.
But first, a little something about the book!
Otherworldly Creatures. Dazzling Magic. Fiery Romance.

Shiloh Ravenwolf thought she was getting used to the strange events in Whispering Pines, until the full moon brings another surge of supernatural threats to her coastal town. Ferocious wolves, deadly necromancers, and shambling zombies have descended upon the neighborhood, so Shiloh needs to gain control of her magical abilities—fast!

It sucks that she has a crippling fear of the dark, which for a demon hunter can be an epic problem. But she spends so much time wallowing in the darkness, how can she not become a part of it?

When her classmates are attacked by a mysterious creature and her father is murdered, Shiloh vows vengeance. Forcing her phobias aside, she forms an unlikely coven of supernaturally gifted teens to help her eradicate this menace. Except that's not all Shiloh has to worry about. She's battling a different monster within herself and struggling not to become the very thing she fights: evil.

But with demon blood inside her—anything can happen…
Moonlight Mayhem by Sherry Soule
Publish Date: July 1, 2012
[youtube_sc url="http://www.youtube.com/watch?v=o44sW-gFtvA" autohide="1″ hd="1″]
Okay, today 's post is provided by author Sherry Soule, who is celebrating the release of the second novel in the Spellbound series, MOONLIGHT MAYHEM—due to be published July 1st, 2012.  This would be cast her dream cast of actors. So without further ado here are Sherry's top actor picks for her dream cast…
My kickbutt heroine, Shiloh Ravenwolf is a tough one. For me it is between these lovely and brilliant actresses: Chloe Bridges and Rachel Bilson and Malese Jow. (I couldn't find many Native American actresses in my Google search that would fit my description of Shiloh, who is half-French and half-Sioux.) 
Quirky, SHILOH (who never leaves the house without her fav hot pink Doc Martens) has a habit of engaging her brain before her mouth. She has seen shadows for as long as she can remember, and they always turn up when something bad is about to happen. Shiloh was born with an unusual mix of Native American Sioux and French Wiccan ancestry. When Shiloh meets the new town hottie, Trent Donovan, she realizes he might be next on the supernatural hit list. Shiloh decides it's her duty to find out what is causing the mystical disappearances in Whispering Pines before the evil claims another innocent life. Yet even as a witch-in-training, is Shiloh worthy to combat the forces of darkness? Or is she just another teen destined to befall the town curse?
For the part of the arrogant, playboy, Trent Donovan, I think these dynamic actors would be great: Christopher Chace Crawford, Alex Pettyfer, or Louis Hunter:
After seventeen years, TRENT and his father return to Whispering Pines and are instantly under speculation. Especially when construction on their mansion awakens an ancient evil, and the vanishing of a local teen has everyone murmuring about an old witch's curse. When Trent meets Shiloh—sparks fly. Shiloh and Trent have an almost instant connection. As their friendship changes from mutual lust to real affection, they achieve an emotional closeness rarely found. He finds Shiloh's willful determination a challenge, but he still has a hard time expressing his feelings.  Will Trent be able to survive the Whispering Pine curse in time to tell Shiloh how he feels?
For Shiloh's mother, Jillian Ravenwolf -Broussard, I like this amazing actress: Kelly Lee Carlson (she would be so perfect).
Shiloh's mother, JILLIAN BROUSSARD is an incredibly beautiful yet cryptic woman. She has never really been the "motherly" type. When she starts dabbling in Dark Magicks, she slips further away from her family. Jillian has been embracing darkness, and straying from the path of Wicca. Will the cost of her driving ambition come at a deadly price? 
For Jackson Ravenwolf (Shiloh's father) these wonderful actors might be great: Oded Fehr or actor/model, Rick Mora.
JACKSON RAVENWOLF is Shiloh's father, and he only wants peace within his troubled family. He is a kind-hearted man who tends to be swept up in Shiloh's drama. He does not believe in the supernatural. Not in ghosts or hauntings or mysterious happenings as well as psychic abilities. He thinks the rumors about witches are ridiculous. Still he's worried that Shiloh will discover his secret. Will he finally find the courage to tell Shiloh the truth about her heritage?
For Shiloh's sassy best friend, Ariana Parsons, this remarkable actress would be great: Tiffany Thornton.
Smart and feisty, ARIANA PRESTON is Shiloh's best friend. Her outgoing nature, along with her snarky and blunt personality, are Ariana's most endearing qualities. Upon learning that Shiloh is actually a powerful thirteenth witch, she dedicates herself to aiding her friend in the battle against evil. But after playing around with the occult, Ariana develops a taste for the dark arts. Will her interest in the Craft only cause more havoc and mayhem in a town that is already cursed by dark magick?
For Anthony Evans, Shiloh's mentor and friend, I like these gifted actors best: Josh Lucas or Patrick Wilson.
ANTHONY EVANS is a Victorian restoration specialist and part-time paranormal investigator that grew up in Castro Valley, California. Born into a family gifted with Sight. After the death of his wife, he moves in with his brother-in-law, Maxwell Donovan and nephew, Trent to assist them in cleansing their haunted house. After hiring Shiloh as an assistant, he decides that it's his duty to educate Shiloh in all things supernatural. But will teaching her magick be enough to stop the evil from killing the other teenagers in town? 
For Shiloh's brave and loving aunt Lauren, I like these outstanding actresses, Gwyneth Paltrow or Charilze Theron:
LAUREN BROUSSARD Lauren wants to help Shiloh deal with her newfound powers. Although, continuous, heated disagreements with her sister, Jillian about Shiloh's upbringing resulted in her being estranged from the family. But what can Lauren say when Shiloh starts asking questions about the Broussard family's dark past?
Only one actor comes to mind that could portray the dashing and ruthless, Maxwell Donavon – Australian actor and former fashion model, Julian Dana William McMahon:
Millionaire, yuppie, MAXWELL DONOVAN, finally appears in MOONLIGHT MAYHEM. He shares his son Trent's intensity, articulacy, and conviction. He was born to a wealthy California state assemblyman and he has five sisters, all living in Castro Valley. Maxwell was married to Claire and stole not only her heart, but her sanity as well. Rumors abound after he is accused of murdering his wife. Is he really a heartless killer or is there more to this enigmatic man? 
For the bratty Trendies, Ashley and Kayla, I like these young, talented actresses: Victoria Justice for Ashley and Amanda Bynes for Kayla:
Victoria Justice as ASHLEY WITHERIDGE is the mayor's daughter. She is the Queen Bee at Whispering Pines High. Always calm and poised, and perfectly coiffed. She is Shiloh's best frenemy. Ashley is very loyal to her friends while still being independent. When an unstoppable beast invades the town, will Ashley put aside her differences to join forces with Shiloh?
Amanda Bynes as KAYLA BISHOP is Ashley's best friend and captain of the cheerleading squad. At times, she can be spontaneous or cautious—whatever the situation calls for. But will Kayla surprise herself with her own insightful contributions to the fight against evil?
Characters from MOONLIGHT MAYHEM
For Daniel Ramírez and his parents, Regina and Javier, I like these three talented actors: Michael Trevino as Daniel, Famke Janssen as Regina, and Demián Bichir as Javier.
 Okay, so there you have it, Sherry's fav actor picks. If you've read Beautifully Broken or Moonlight Mayhem, what actors would you pick for the leading roles? 
Be sure to check out the other blogs participating in the tour!
You can find them all listed HERE
Where you can find author, Sherry Soule online:
Official Spellbound Series Universe
 Thanks for stopping by!